THING FABRICS CLOUD
使っただけで違いの分かる理想のタオルを求め生まれた"TIP TOP 365"。
素材にこだわり、世界中で年間生産量がわずか数パーセントしか収穫出来ないアメリカ産希少綿花の
"超長繊維綿"のみを使用し、平均繊維長36.5mmの超長繊維綿を独自の紡績技術により
最高級超長綿ならではの風合いを活かす為、撚り回数をコントロールし毛羽が極めて少なく
シルクのような光沢と滑らかさがあるタオルに仕上げました。
THING FABRICS CLOUDではパイルを長くする事により摩擦の抵抗を減らし、
柔らかく肌触りの良いムースのようなボリューム感と、さらに高い吸水性を追求しました。
この素材の良さを生かし切ることに執着した、贅沢な仕上がりです。
The TIP TOP 365 Towel was born of the desire to make the ideal towel—a towel
that feels different from themoment you use it. The material is made from rare,
extra-long staple (ELS) cotton harvested in the United States.
ELS cotton makes up only a small percentage of the global annual cotton harvest.
This towel uses ELS cotton with an average fiber length of 36.5mm,
spun with our original spinning techniqueto maximize the texture of this high-quality cotton.
By controlling the number of twists,we have produced a thread with extremely little fluff,
to create a towel with a silky, smooth sheen.
By lengthening the pile of Thing Fabric Cloud, resistance and chafing are reduced,
resulting in a soft,almost mousse-like feel.
This texture also provides superior moisture absorbency.
Thing Fabrics Cloud thus offers a level of luxury made possible
by taking full advantage of the material'sextraordinary qualities.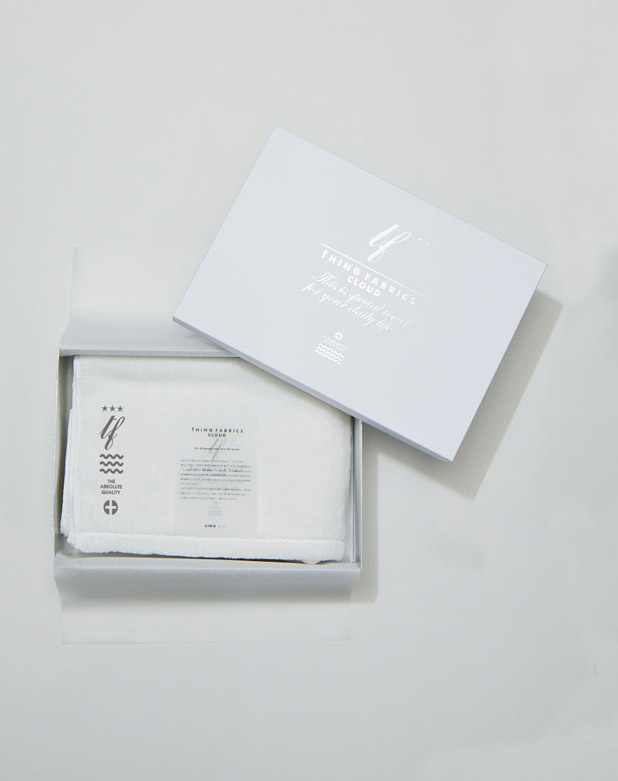 ITEM  TFOT-1017  THING FABRICS CLOUD Bath Towel Box
COLOR  White
SIZE  F  (130cm×70cm)
MATERIAL/100% Cotton
PRICE  ¥10,000+TAX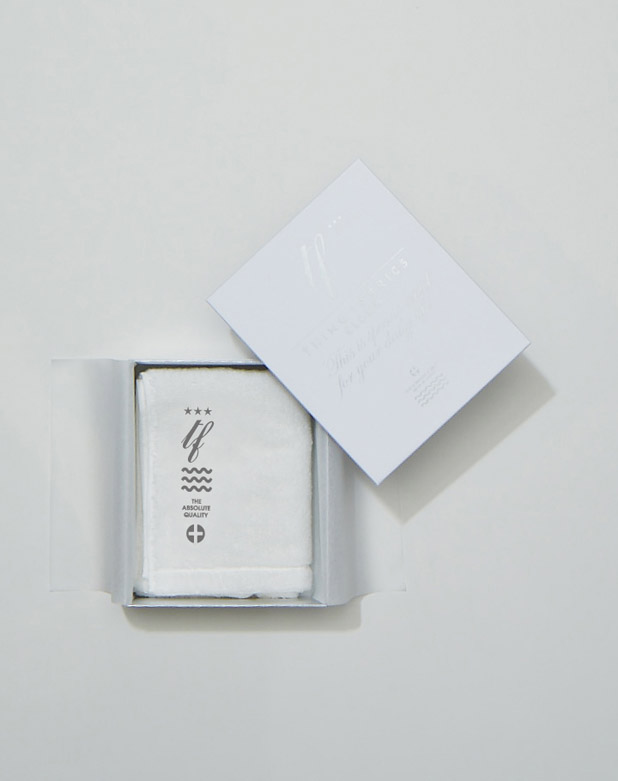 ITEM  TFOT-1018  THING FABRICS CLOUD Face Towel Box
COLOR  White
SIZE  F  (85cm×34cm)
MATERIAL/100% Cotton
PRICE  ¥4,500+TAX